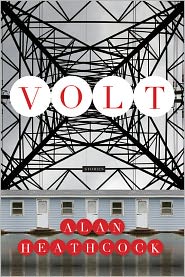 Volt: Stories (
Amazon
) by
Alan Heathcock
is a book of short stories. They all take place in the same town/rural area, of Krafton, and there are recurring characters and themes in each, the most common being redemption.
Volt was one of those books where I enjoyed it while I was reading but I don't honestly remember much about it. It might be because I was tired for some of it, or because of the author's writing style. I'm not entirely sure. I know I enjoyed reading it, but I'm not entirely sure why. I read it in two sessions, and during the second session I couldn't remember much of what I had read in the first, and so I had to go back and check.
However, anyone who is a fan of short stories that have a bit of mystery and violence will definitely be a fan. I didn't really notice until I read one of the summaries on Amazon, but each of the stories involves a violent death in some way. This sounds gruesome, but it's not particularly depicted as such.
Alan Heathcock does not seem to have any contact information available, so that wraps this up. Bye!